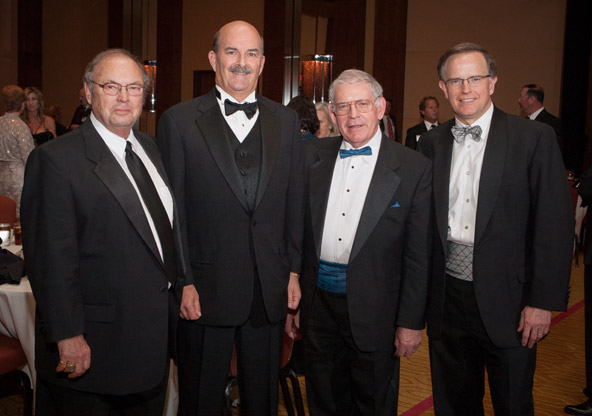 Philippi-Hagenbuch, Inc. is pleased to announce the induction of LeRoy G. Hagenbuch P.E. into the inaugural class of the Pit & Quarry Hall of Fame.
The Pit & Quarry Hall of Fame recognizes, celebrates and preserves the history of outstanding leaders in the aggregates industry. The Hall of Fame seeks to create a wider public understanding and appreciation of the industry's role - not only in the past but for the future - in global economic and social prosperity.
"Experimenting started at an early age for me; in fact, my mother once commented that I was their (my parents) first experiment!" said LeRoy Hagenbuch during his acceptance speech. "Growing up on a farm requires you to be creative. One of my fathers principles was "If you need one of something, buy it; if you need two or more, make it. This has always stuck with me."
Hagenbuch went on to discuss his support structure: "One is only able to reach this level of achievement with a lot of SUPPORT!. The support I have, which includes my family and our company associates is what has led to my personal and our company success over the past 44 years."
LeRoy G. Hagenbuch, P.E. is the Chief Engineer and Co-Founder of the engineering and manufacturing firm Philippi-Hagenbuch, Inc. of Peoria, IL. His patent for the first commercially available tailgate designed for off-highway haul trucks was only the beginning. He is now credited with over 80 patents in the US and internationally. The most recent patent improves access to the inside of water tanks, allowing personnel to enter the water tank and traverse through its bulkheads easily and unencumbered with the addition of full-sized access doors, which is an industry first. To advance the process of quarry efficiency, he developed many products to efficiently haul rock and overburden while minimizing material carryback.
Mr. Hagenbuch has made outreach and industry progress a mainstay of his career. He has written white papers on vital industry topics, spoken at conferences and trade shows worldwide, and been active with many associations on behalf of the industry.
His operating philosophy has been to extend the safety focus beyond training and awareness; each Philippi-Hagenbuch engineer is challenged on the safety of their product designs. In addition, each staff and production meeting at the company starts with a discussion of a critical safety topic.
Mr. Hagenbuch is a member of many state and national business and industry associations. He is currently serves on the Board of Directors for the Illinois Manufacturers' Association (IMA), a past Chairman of the Illinois Manufacturers' Association's Small Manufacturers Council (IMA-SMC), a past member of the Board of Governors for the National Mining Association Manufacturing Council (NMA), and a past member of the Board of Directors for the National Stone, Sand and Gravel Association Manufacturers and Services Council (NSSGA). Additionally, he participates the Wyoming Mining Association (WMA), the Mining Associates of Wyoming (MAW), the Association of Equipment Dealers (AED), the Rocky Mountain Coal Mining Institute (RMCMI), the Association of Iron and Steel Technologies (AIST), the Master Mechanics, the Society of Automotive Engineers (SAE), and the American Society of Mining Engineers (SME).
In addition to Mr. Hagenbuch, the following industry pioneers were inducted this year:
Emil Deister Sr., Deister Machine Co.
Charles W. Ireland, Vulcan Material Co.
Charles Luck Jr., Luck Stone
Samuel Calvin McLanahan, McLanahan Corp.
Paul C. Mellott Jr., Mellott Co.
Arthur Taggart, Columbia & Yale Universities
For more information on the Hall of Fame, please visit https://www.pitandquarry.com.
Content composed with the free online HTML editor toolkit. Please subscribe for a membership to stop adding links to the edited documents.